1950's
Our Dad started this company in the late 50's
In the late 50's, Walt Reder, Sr., installed a few new lawns for some friends, planting the first seeds of Reder Landscaping.
Walt, Sr., wasn't your ordinary, run of the mill person. He was a very busy man with a full time job at Dow Chemical, a seat on the Bay City school board, and an 80 acre farm where he raised 1000 chickens a year for market just in time for Thanksgiving. His wife Lottie and he also canned vegetables from their garden, brewed their own beer, and crafted homemade sausage, cheese, and wine. Somehow Walt found time to install lawns in the spring and fall after planting and harvesting at the farm (oh yes, and enjoying a little wine and beer!).
1960's
Walt Reder, Jr., joined his father in the business.
In the early 60's, Walt Reder, Jr., joined his father in the business. Together they grew it into a full time operation by 1965, focusing on lawn installation and sodding. Soon Bob Reder, Walt, Sr.'s, second son, joined the company after earning a horticulture degree from Michigan State University. In 1974 they purchased a retail location on Midland Road in Auburn, Michigan.
1970's
Paul, Dave, and Mike join the crew
Walt, Jr.'s, three sons, Paul, Dave and Mike, also worked for the business in their early teens during the 70's on the lawn crews and in the nursery. Quality was always a priority, and even in the early days of long hours, they never cut corners.
It's worth doing right the first time
Walt and Bob's approach was real simple – "complete every job like you are doing it for yourself" and "if it's worth doing, its worth doing it right the first time". And it worked! Installing over 200 lawns a year in the 70's with demand continuing to grow, Walt and Bob purchased only the second hydro-seeder ever sold in Michigan at that time.
Creating new opportunities
Intent on creating more opportunity for their 6-8 employees and the up and coming generation of Reders, the company grew to add a retail location, a pool franchise, as well as cut Christmas trees and holiday decorations. However, Walt, Jr., still felt there was a missing ingredient to the company; landscaping and design. Paul Reder, Walt's eldest son, took college courses in drafting, surveying, and architecture and soon started providing customers with landscape design and installation, further expanding the company.
1980's
Weathering the recession
When the recession of the early 80's struck Michigan, Walt and Bob's company almost became a mere memory and some tough decisions had to be made. Walt had to plant lawns on his own just to make a living. Bob took a different career path. Paul began mowing lawns and installing landscapes with his wife Joan by day, while designing and doing office work at night. Paul never wavered from what he loved to do, and as the economy turned around and business grew, his brothers Dave and Mike came on board to help manage the increase in business together with Walt.
2000's
Evolving with the industry
The work ethic Walt instilled in his boys made the difference in those challenging times, and they carry on that tradition of quality to this day. As the landscape industry has evolved with consumers demanding more services, Reder Landscaping has evolved and grown to meet these demands. Today, we are a 40 person team offering comprehensive landscape design, installation, maintenance and irrigation. We are truly a one-stop landscape service provider.
Into the future
The diversity, skill and talent of our team is exciting, and we look forward to serving you now and in the future.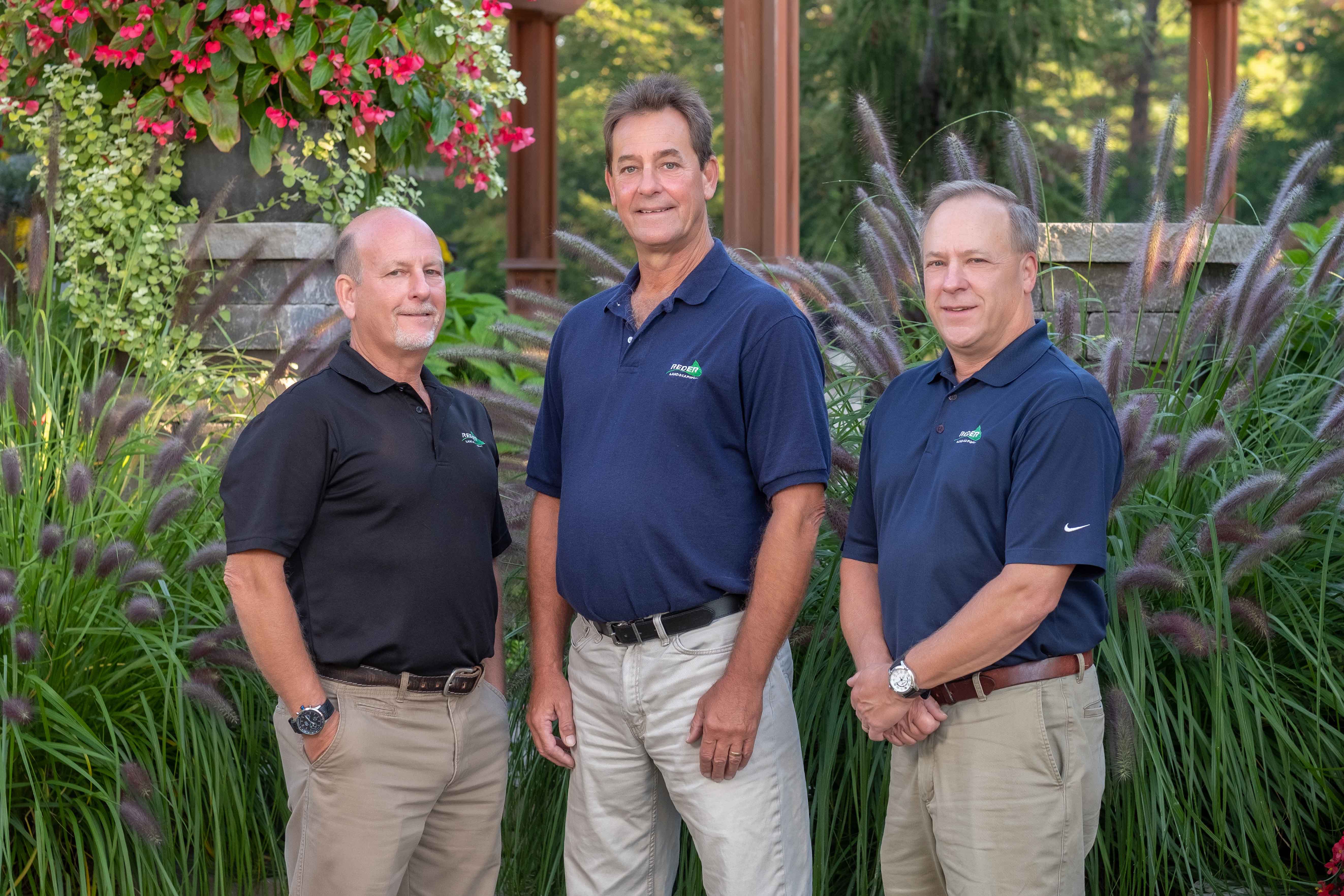 Paul, Mike, and Dave Reder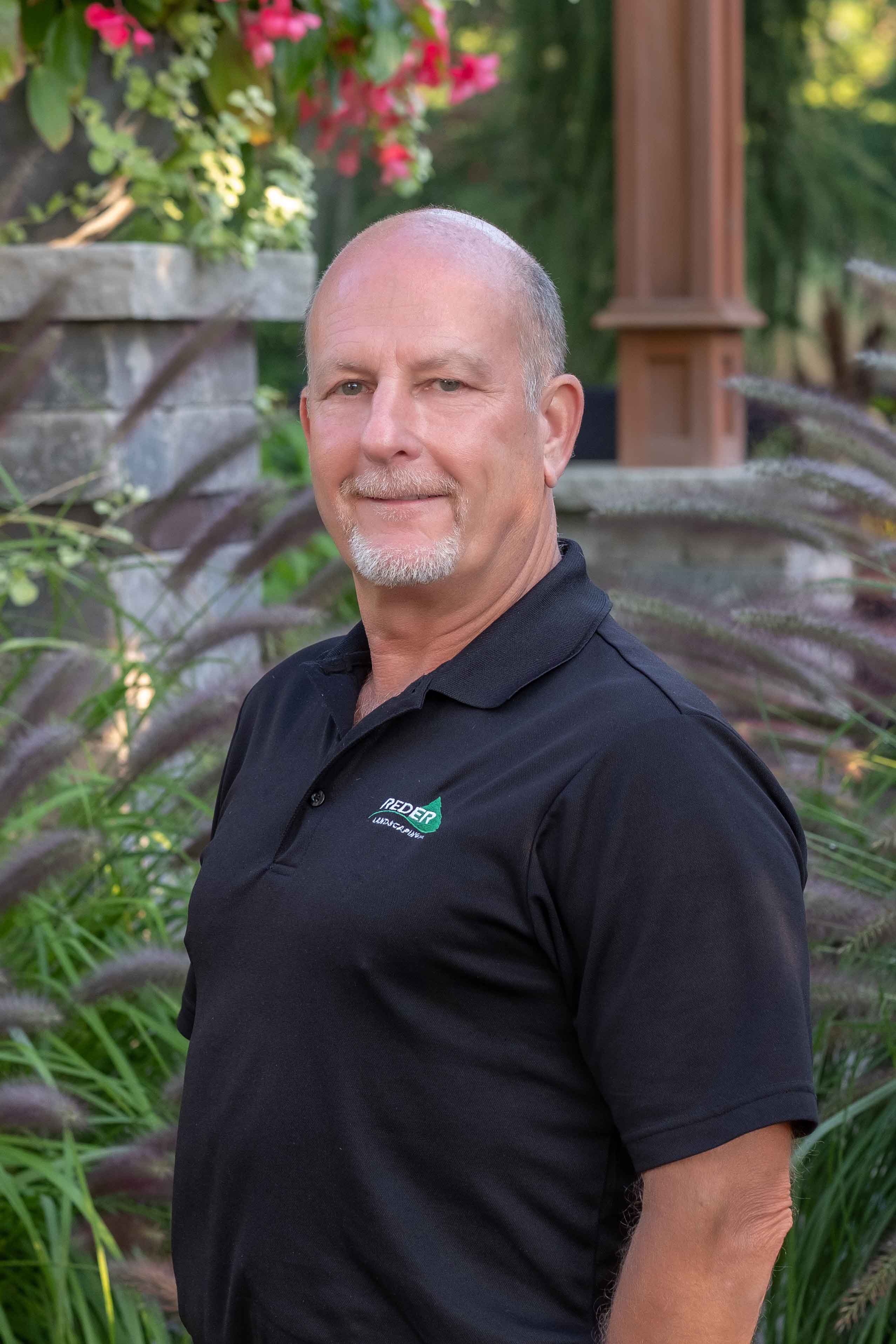 PAUL J. REDER
President, CFO & Designer
Experience
Over 30 years industry experience.
2nd generation owner for over 25 years.
Delta College, 1978 – Fast-tracked in unique architecture program with tutoring on landscape design principles. Program designed by father, Walt Reder in cooperation with Delta.
Personally designed and managed the installation of over 2000 landscapes in the Tri-Cities and surrounding area.
Certifications & Associations
ICPI – Interlocking Pavement Institute – level 1 installer, 2005.
MCN- Michigan Certified Nurseryman, 1988.
CGIP – Certified Green Industry Professional, 2009.
Past Vice President of the SVNLA – Saginaw Valley Nursery & Landscape Association.
See Company certifications
Specialties & Responsibilities
Manages the construction division focusing on design, sales and marketing.
Specializes in sustainable landscapes with natural materials in wooded environments using sound design principles.
Paul is particularly passionate about renovating existing, mediocre/poor landscapes and beautifying the community.
Paul has worked in every aspect of landscape construction and maintenance as a crew person, foreman, designer, sales person, lawn care tech, equipment operator and paver installer.
Community Involvement
Auburn Little League Baseball coach
Midland & Bay City Youth Hockey coach
Supporter of the Reece Endeavor Garden Walk
Member of the Blessed Sacrament Planning Commission
Why Landscaping?
"I enjoy working in the outdoors and exceeding client's expectations with functional landscapes that provide visual enjoyment and add real value to their homes."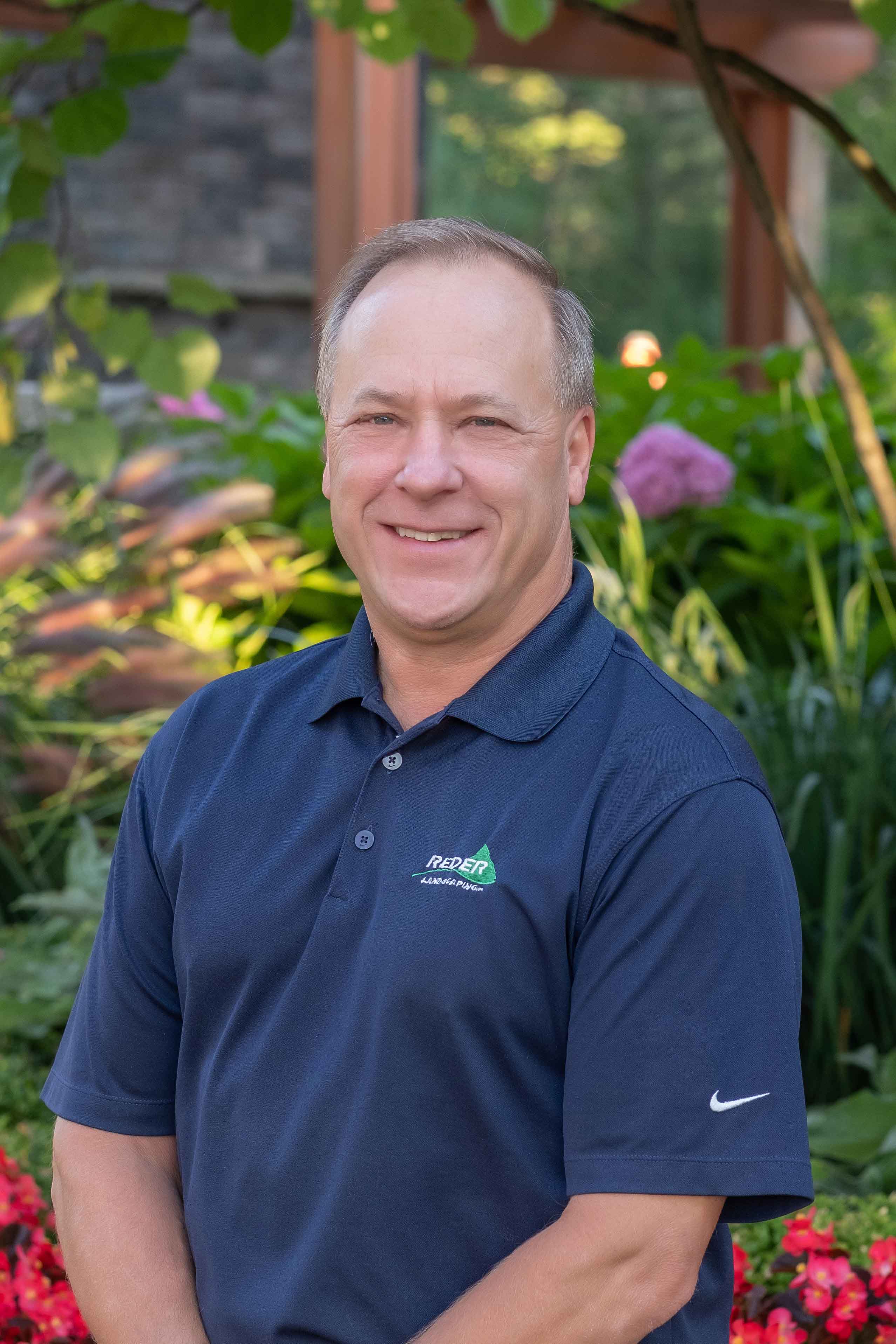 DAVID W. REDER
Vice President of Operations
Experience
33 years industry experience
2nd generation owner
Certifications & Associations
See Company certifications
Past Vice President, Saginaw Valley Nursery & Landscape Association
Specialties & Responsibilities
Horticultural emphasis
Turf grass establishment & maintenance
Dave has completed over 1000 hours in industry classes and workshops, and leads the company's ongoing safety and craft training
Responsible for Reder Landscaping day-to-day operation, including:Production & scheduling of landscape installation crews

Purchasing
Customer Service
Human Resources
Facility Management
Why Landscaping?
"As they say, 'it's in my blood'. I have worked in landscaping since the age of 15 only spending one season at the age of 22 away from the business. It was after one year 'indoors' that I knew landscaping and being in business for myself was my future."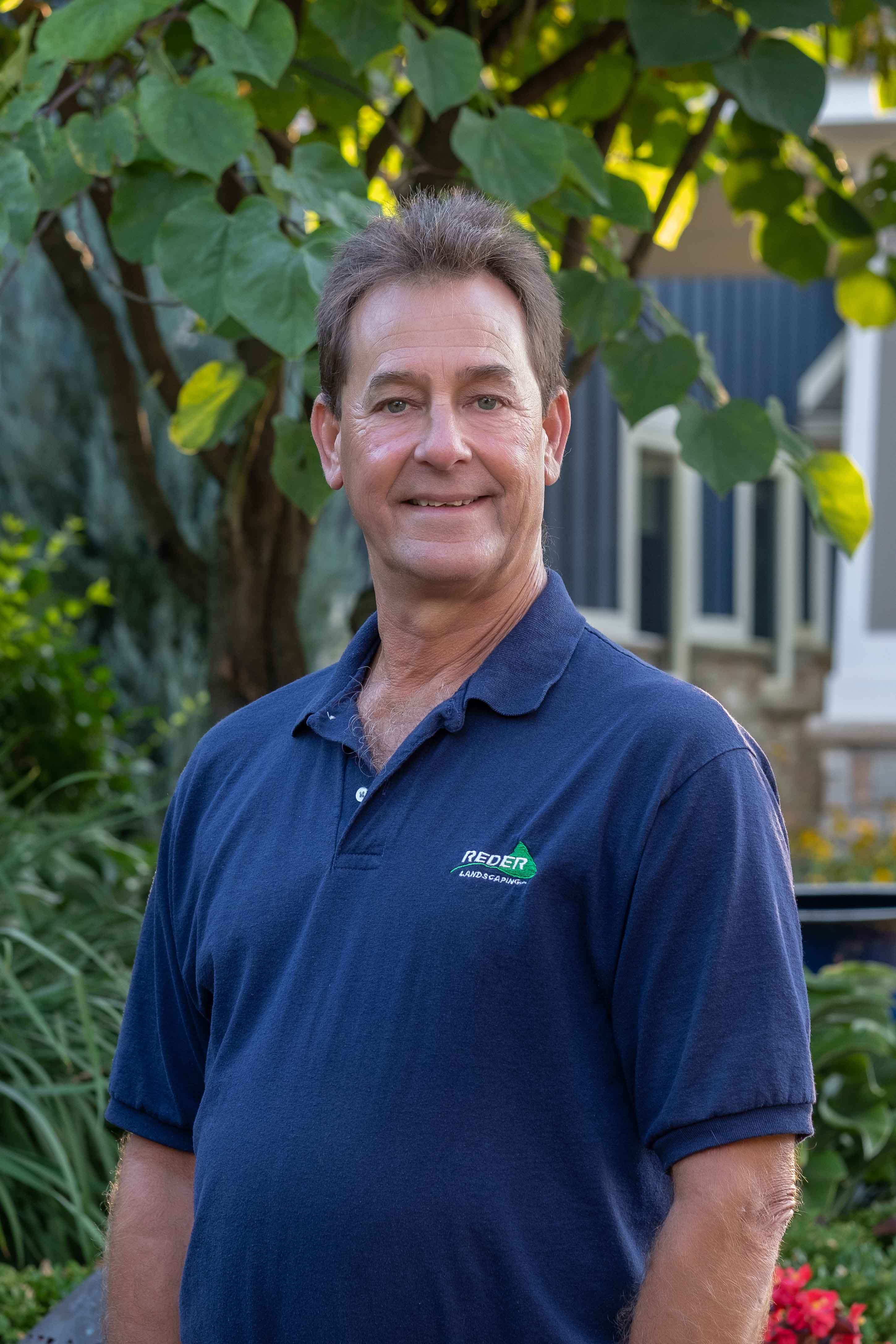 MICHAEL V. REDER
Vice President of Landscape Management
Experience
Over 25 years of landscape industry and management experience
2nd generation owner
Completed over 1,000 hours of landscaping industry classes & workshops
Certifications & Associations
See Company certifications
Specialties & Responsibilities
25+ years of managing properties from single family estates to 50+ acre complexes.
Manages and schedules weekly maintenance of over 100 properties annually.
Specialty expertise in design, build, and maintenance of  irrigation systems.
Manages multiple crews on multiple sites on a daily basis.
Manages full time mechanic responsible for the repair and maintenance of a 25 vehicle fleet, 8 loaders and tractors, and over 150 small engines.
Community Involvement
Mike has always been proud to be able to donate time and materials to different schools, churches, and businesses to help their needs. Things such as trees for memorials, company items or plant material for auctions for different charities, or simply delivering evergreen bows for children at local schools to make Christmas wreaths.
Why Landscaping?
"It can be very gratifying to bring a property to its full potential, and here at Reder we can do this a number of ways. From weekly maintenance such as mowing, edging and clean-up. To a seasonal pruning to keep everything healthy and looking its best. To a backyard renovation with new plantings, patio, outdoor kitchen and lighting. There have also been many other rewards over the years, but the one that I enjoy the most has been the many relationships that have been built with clients, vendors and our employees."