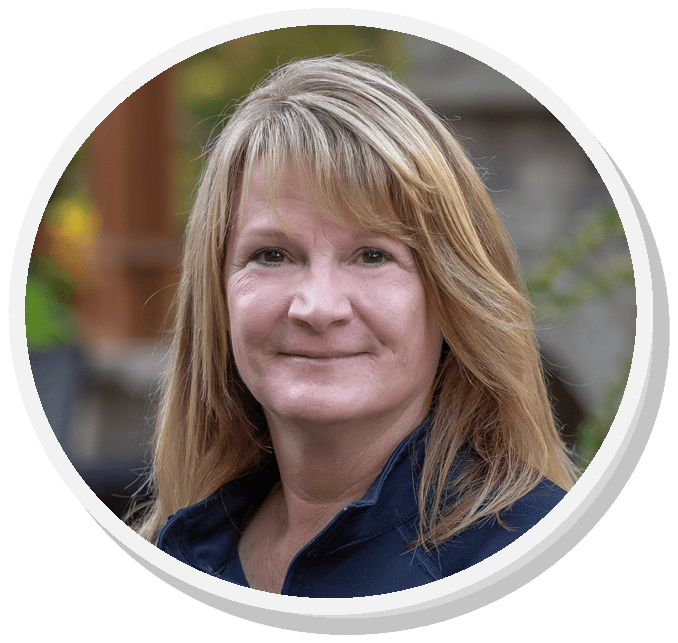 EXPERIENCE
25 Year horticulture experience
4 Years as a Client Service Representative/Sales & Designer with Reder
10 Years business owner, Designs in Bloom
20 Years with family owned business, Russell's Greenhouse
Professional Floral Designer, fresh floral design, permanent botanicals and events
PHILOSOPHY

"Color is a powerful tool that can be used in landscapes to create a relaxing mood, liven up empty spaces and create focal points.  Outdoor living and gardening encourages homeowners to relax, stay awhile and enjoy their calming space.  Sharing time outdoors and in the garden with family and friends creates lasting memories that make it all worthwhile."
Kathy joined Reder Landscaping as a Client Service Representative, specializing in container gardens, garden design and garden maintenance.  She was raised in Midland and in her youth enjoyed working on the family farm that was known for growing produce and cut flowers.  In 1985 she joined the family business, Russel's Greenhouse, to continue more than 20 years of horticultural experience with hands-on knowledge of all aspects of the greenhouse industry.  That experience included plants, production, marketing and management through retail sales.  Her passion is flowers and planting container gardens.
During the off-season, Kathy continued to work with flowers, reaching out to friends in the industry with retail flower shops.  There she enjoyed designing with fresh flowers for holidays and events.
Kathy has 25+ years of experience in beautifying homes and businesses.  Many of those years were spent running her own successful floral and container design business, Designs in Bloom.  The business combined her passion for flowers to offer four seasons of container gardens, garden design, garden installation and garden maintenance.  She also specialized in fresh and permanent floral design work for garden parties, events and holidays.
With her creativity and desire to work with clients, Kathy joined Reder in 2016.  Today she continues to focus on Client Service.  She enjoys meeting with clients to discuss their landscape & maintenance needs and share ideas to complete their vision.  When she is designing and planting containers for a client's home, her focus is on color to create a welcoming entrance and add the finishing touch to patios and gardens.  Plant requirements and plant care are also considered.  Materials and plants are delivered early in the season to Reder for timely installations.  Kathy and a team of professionals create beautiful containers using healthy, vibrant and vigorous blooming plants to be delivered to homes and businesses.  Responsibilities at Reder include; Client Service Representative, managing customer accounts for landscape maintenance services and design/sales of small landscape gardens and enhancements.  Kathy looks forward to each new season with inspiring ideas to fill your garden, no matter how big or small.  She will suggest and find annuals, perennials and shrubs to execute them perfectly.
View a collection of Kathy's designs here.