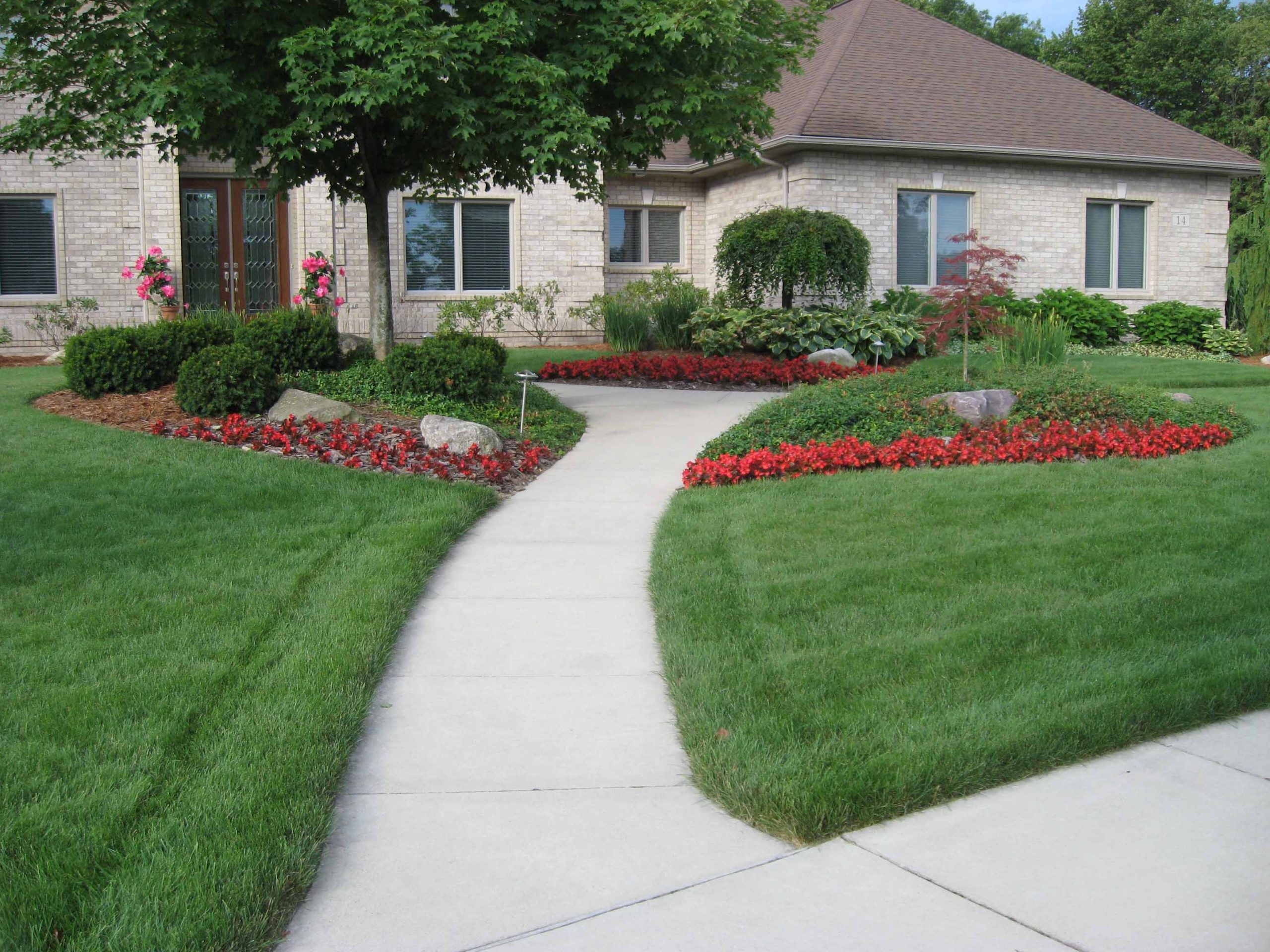 Lawn Installation Contractor
Reder is the leading landscaping contractor for lawn installation in Midland, Freeland, Saginaw, Bay City, Mt. Pleasant and surrounding areas. At Reder Landscaping we are passionate about landscaping and any beautiful landscape starts with a thick, healthy lawn.
With over 50 years of experience installing lawns our knowledgeable, dedicated team and reliable equipment ensure your lawn will be the envy of the neighborhood.
Our team has solutions for difficult growing conditions such as shade or  unhealthy soil as well as solving any drainage or erosion issues.
Whether you are in need of a new lawn for new construction, a complete lawn renovation or lawn health solutions and repair Reder Landscaping is the landscape contractor you need.
When looking for a lawn installation contractor in Michigan, look no further than Reder Landscaping!
Very pleased. Richard gave me good, affordable, options for a small space. I had two prior local landscape & Masonry ,companies come out. Did not care for either designs or exorbitant costs, as well as the Very lenghty wait times to start the project. The project consisted of pavers over an existing crumbling front porch & about 20 ft of landscape work. Matt & Mark did a superb job on both parts of the project. All completed in harsh weather, before the holiday. Thank You Reder Landscaping.
We love the quality of work that Reder Landscaping provided for us. They put in a rock wall, fixed another eyesore spot and planted plants/trees. They also did some split seeding, fertilizing etc. The crew did an awesome job and we are happy with our new beautiful front yard. Joel Finney and his crew communicated with us throughout the process and did a exceptional job! Thank you!!!
Their crew removed an existing island containing plants and two trees. They then laid out a new island along with a patio area within. These men were very professional, worked hard and did an excellent job. Mr. Maddy made sure the area was cleaned up every night before they left. Can hardly wait for spring to see how the new plants come together. In my book – Reder would get five stars Plus.
After much consideration, at about this time last year, I decided I wanted to have an outdoor kitchen. My thoughts were that it would expand the living space of my home, would be great for entertaining and according to my reading, would significantly increase the value of my home. It was without hesitation that I contacted Reder Landscaping who has done so much for me over the years in landscaping, lawn maintenance and several other projects. My outdoor kitchen was completed before fall. From concept to completion, there were so many decisions to be made, so much work to be completed, my advice to anyone wishing to start this project is to start early. I am so pleased with the results. It is a unique reality. From designing through construction, the crew was hardworking, pleasant, very meticulous and oftentimes quite innovative. Thank you Reder Landscaping.
Josh and his team did an outstanding job of cleaning my yard and getting it ready for the winter. I could not have asked for a better team or better service! Thank you Reder Landscaping!
We have used Reders for our lawn and landscaping projects for 15+ years and have always been very satisfied with their work and the professionalism of their staff, always very friendly.
Highly professional organization. They come when they're supposed to and do a good job. So far I've used them for lawn mowing and maintenance, clean-up and pressure cleaning. They have earned my recommendation.