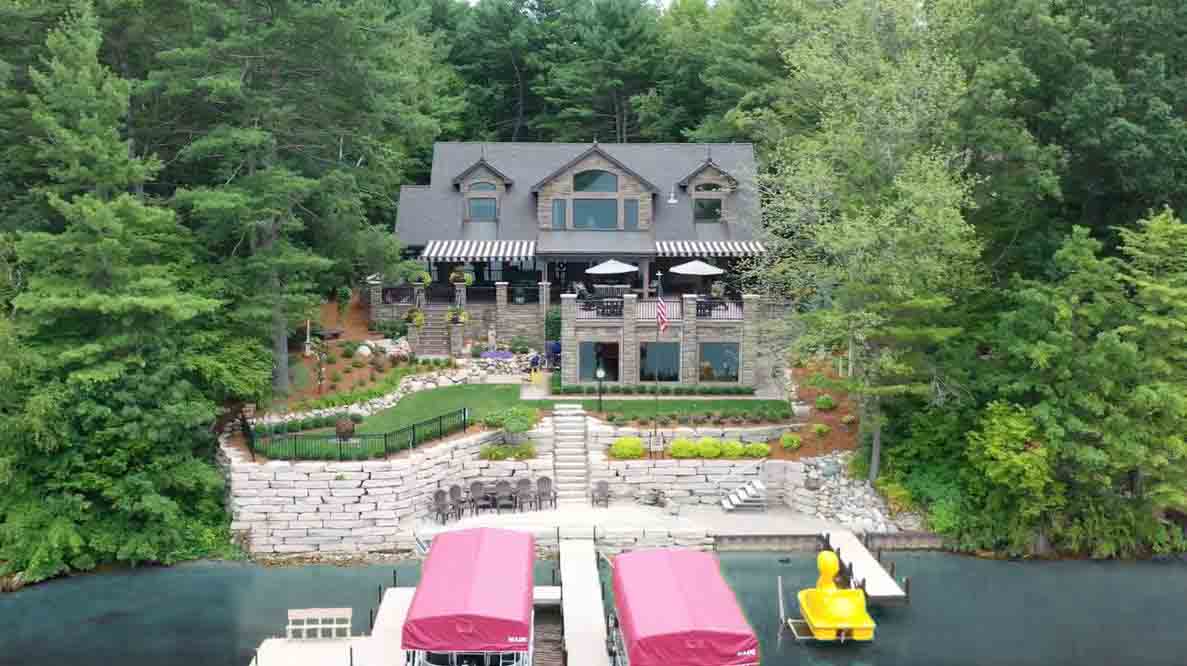 Waterfront Landscaping Company in Midland, MI
Enhance the tranquility of waterfront living with a welcoming gathering space where you can sit back, relax and take in all of the beauty surrounding you. Completing dozens of waterfront projects, our talented and innovative design team, along with our experienced installation crews, ensures your waterfront landscaping project will be everything you have been dreaming of.  Whether you are in need of putting up a retaining wall, seawall or want to expand your lakefront living space, we have the experience and techniques to make your landscaping dreams a reality.
Don't live on a lake?  Consider a custom pond installation.  We have many clients who enjoy a private pond or flowing stream through their landscape.  Nothing says retreat like your own, personal pond in your backyard.  Sit back, relax and enjoy the privacy and peace and quiet of your own pond or stream.
Their crew removed an existing island containing plants and two trees. They then laid out a new island along with a patio area within. These men were very professional, worked hard and did an excellent job. Mr. Maddy made sure the area was cleaned up every night before they left. Can hardly wait for spring to see how the new plants come together. In my book – Reder would get five stars Plus.
Josh Rivas and his crew always work with efficiency and a smile. It's especially nice when a resident can come and say "Hi" and they respond with kindness and excellent customer service.
Very warm and professional employees. They came up with a wonderful plan and listened to our suggestions and included them. The work that we had done last year was done with precision and perfection. Highly recommended!
Contracted with Reder Landscaping last year to redo several flower beds, provide fertilization, etc. to our much in need of help (had more dirt than grass!) lawn as well as servicing our sprinkler system. Brian Weaver listened to our needs, provided a very timely and well done landscape plan and gave several alternatives on how to improve our lawn. We've contracted with several other firms over the years and have to say none provided the results we've gotten using Reder. Highly, highly recommend them!
We had our in-ground pool removed this summer so we contacted Brian Weaver from Reder's to put in a new lawn and change the layout of pavers and flagstone into an open area for grilling as well as to make a walkway from there out to an outbuilding. Brian Weaver, Reder's Site Mgr and Reder Landscaping Co. crews outdid yourselves again! The grass spraying crew did an outstanding prep and finish spraying job and were very efficient. The paver crew was very courteous, extremely professional with their work ethic and communication skills with me. Their quality of work and expertise in-fact, exceeded our expectations! Brian's suggestion to use the existing flagstone to continue the walkway beyond the pavers proved to exactly what we wanted.
We have used Reders for our lawn and landscaping projects for 15+ years and have always been very satisfied with their work and the professionalism of their staff, always very friendly
Highly professional organization. They come when they're supposed to and do a good job. So far I've used them for lawn mowing and maintenance, clean-up and pressure cleaning. They have earned my recommendation.
Your service reps, lawn service, weed controllers and office staff are so wonderful. Staff is not only on time and attentive to problems, but kind, knowledgeable and professional. I will continue using Reder services in the future. Also, snow removal is perfect.
We had a fantastic experience with Reder Landscaping. We had extensive damage from the 2020 flood and Brian Weaver did a great job planning and designing the project. The crew was professional, quick, and did an exceptional job. I am no longer embarrassed by how our yard looks! I would highly recommend them for any landscaping project and will continue to work with them in the future for all my landscaping needs (which there are many!). Thank you, Reder!