That's right!  We've partnered with Cobblestone Builders to offer you the opportunity to win $1,000 in Reder Landscaping services at this year's Midland Parade of Homes!
How to Enter
Attend the Cobblestone Homes'  Parade of Homes Afterglow Party, and you could go home the winner of an exclusive $1,000 landscaping package!(*)
You are cordially invited to join Cobblestone Homes and HGTV "Showhouse Showdown" host, Bob Guiney, for the afterglow at 5 p.m. Saturday, May 12, near 2043 Harvest Circle in Pine Hollow Estates in Midland.  Here, you'll have the opportunity to visit another fabulous Cobblestone Homes home.   Simply enter to win during the party, and a drawing will be held around 7 p.m.  You must be present to win.
You'll have the opportunity to talk with Bob, who will pose for photos and sign autographs, enjoy hors d'oeuvres and watch the Cobblestone Homes episode of HGTV's "Showhouse Showdown."  Cobbletone Homes built two homes featured on the show, which was filmed locally in August and aired on HGTV in March.  We'd like to thank Cobblestone Homes again for inviting Reder Landscaping to install the landscaping for these two high profile projects and participate in the show (it was a great time!).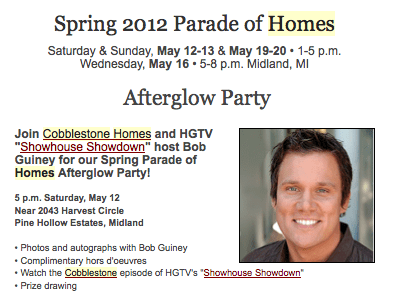 (*) Note:  The winner of the $1,000 prize package has the opportunity to select Reder Landscaping services or select services from two other local businesses.   We hope you'll consider Reder if you win!