You've seen them, and maybe even laughed…sprinklers running in the rain, or running in the middle of the night with a geyser at the curb.
Because they often run when no one's looking, sprinkler problems can go undiagnosed for weeks or longer, costing money and headaches, and potentially leading to larger and more expensive problems down the road.
As a member of our Sprinkler System Maintenance program, we'll be inspecting your system at spring startup, and during scheduled stops during the season to head these problems off quickly and efficiently.
Sprinkler System Maintenance –  Program Features
Spring Startup to pressurize your irrigation syste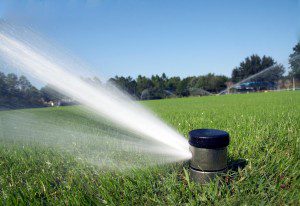 m, adjust coverage and watering schedules, and check for problems.
Fall Shutdown to blow lines free of water and shut down the water supply and controller.
Scheduled Visits to inspect, repair and adjust for the following:
Broken or clogged sprinkler heads
Leaking heads, lines or valves
Heads spraying in the wrong direction
Too much or too little water as seasons change
Design/installation issues leading to inconsistent coverage
Mistakes in controller programming
Visit this information page about our Sprinkler System design, installation and maintenance services to learn more.
Our goal is ensure that your irrigation system provides precisely the water your lawn and landscape need… no more, no less… even when you're not looking.