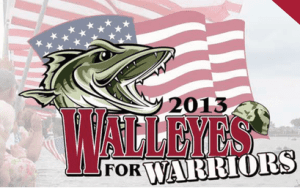 Reder Landscaping announces it's first year's involvement in sponsoring Walleyes for Warriors as a Silver Sponsor!
We have a special place in our hearts for American Veterans, and we have some pretty good Reder fisherman, too! We're selective in the community events and charitable opportunities we sponsor, and we couldn't be more grateful and proud to support Walleyes for Warriors
What is Walleyes for Warriors?
"As a sincere thank you for sacrificing to serve our country, we would like to welcome you to the 3rd annual Walleyes for Warriors Veterans charity recreational event. It is our pleasure to spend the day fishing with you to learning the names and faces of the individuals who have protected our country and provided us with safety and freedom.
Again, ALL Veterans of the U.S. Armed Forces are encouraged to participate, especially those who served in overseas conflicts, have service-connected disabilities, Purple Hearts, or were POWs. We expect to have an excellent turnout again!"
What can you do?
There are many opportunities to sponsor, volunteer, or join the fun as a participant at the event. You can also like Walleyes for Warriors on Facebook to show your support!
Walleyes for Warriors 2012 Event
We found this inspiring video on YouTube, showcasing the 2nd Annual Walleyes for Warriors event in June, 2012.  It's over an hour in length, but you can also skip through it and get good feel for this wonderful event.