Reder Landscaping is pleased to announce that we are serving as a Recycling Drop Off Site for the SVNLA's new Nursery Container Recycling Program.
This program was initiated by the SVNLA (Saginaw Valley Nursery and Landscape Association) to help combat a growing problem – the enormous amount of useful material that winds up in our landfills because there is no good alternative for reusing or recycling it.   The motto of the program is "Recover, Recycle, Reuse and Reduce and make your garden as 'Green' as you can!"
As a designated Recycling Drop Off Site, we will be accepting any size or color nursery pots, trays, six-packs or four-packs.  Just stop by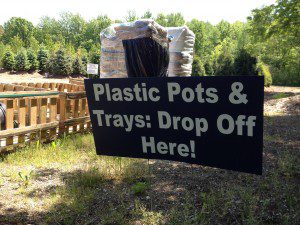 our nursery and leave your items for recycling in the designated area by the entrance.  Whether you purchased your plants from Reder or elsewhere, we want your containers.  All we ask is that you shake the extra soil out of the containers before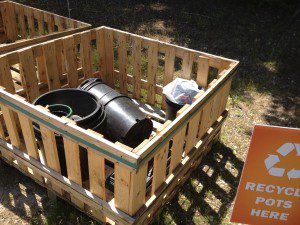 dropping them off – no washing required!
Our Drop-Off is conveniently located near the front of our property at 3805 N. Rockwell.  Just drive in and you'll see the drop-off location on your right-hand side, across the parking lot from our offices.
If you have any questions about the Nursery Container Recycling Program visit www.svnla.org or give us a call.