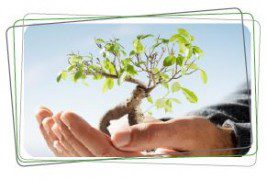 In light of the power outages and the extremely hot temperatures we experienced last week, we thought it would be prudent to mention the value of energy efficient landscape design.  Not only can a well-designed landscape add beauty to your home, but can also reduce your heating and cooling costs by 25%.
Below are a few simple steps that can be taken to help conserve energy this summer.
When planting trees, shrubs and plants this summer, consider the placement to shade your home and contain cooling costs.  U.S. Department of Energy models predict that the proper placement of only three trees will save an average household between $100 and $250 in energy costs annually.  Strategic placement can reduce heat radiation and cool the air before it reaches your home's walls and windows and in turn help lower your energy cost.

To ensure lasting performance of energy-saving landscaping, use plant species that are adapted to our Michigan climate.  Native species are best, since they require little maintenance once established and avoid the dangers of invasive species.  Not sure where to start?  We are happy to help you find the best plant choices for your landscape.

If you have a swimming pool, heat your water and reduce electricity bills by installing a high efficiency or solar pool heater or better yet, use a pool cover.  Covering a pool when it is not in use is the single most effective means of reducing pool heating costs.

Conserve water with sensor based smart controllers to irrigate your lawn and plantings.  Most importantly, get to know your plants to learn how much water is required to sustain them.  This will help with overwatering your plants and conserve water as well.
A well designed, sustainable outdoor environment can dramatically enhance the value of your home and improve the bottom line in your budget.  Contact us today to help you get started.