Every year in early November we engage in a process in our nursery that is very important to us at Reder Landscaping; turning our compost piles into topsoil and planting mix. Recently we posted a video to our FaceBook page that shows how we do this: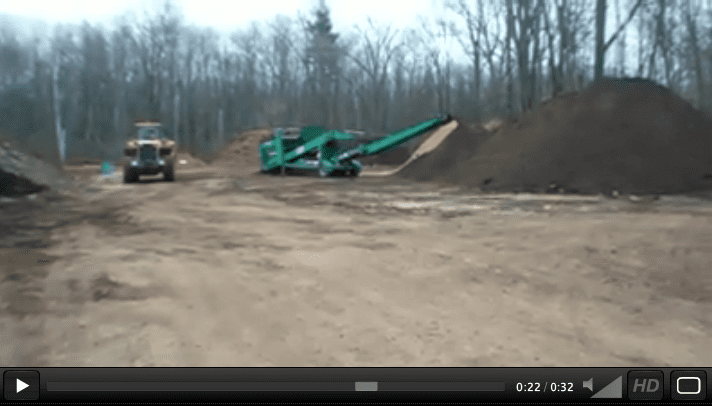 This process represents recycling on a grand scale and in the purest sense.
Every year we landscape and maintain a lot of properties throughout Midland, Bay City and Saginaw. We generate a lot of grass clippings from all the lawn mowing we do. We generate a lot of leaves from all the fall clean-ups we do. And we generate a lot of other organic debris in the form of sticks, twigs, limbs, wood chips, sod, etc. from all the properties we maintain and the new landscapes we install.
All these grass clippings, leaves and debris are hauled to our nursery throughout the season and dumped into huge compost piles. The debris in these piles is regularly turned over with a front-end loader to facilitate the breaking down process. After 2 years of repeating this process the result is planting mix and topsoil that is high in organic content and a perfect growing medium for plants and turf.
The cycle is complete when we go on to use this planting mix and topsoil for new lawns and planting beds in our future landscaping projects.
Most landscaping companies don't have the facilities that we do and have no option but to dump their clippings and refuse in the landfill.
It takes a lot of work to go through the process that we do to make our own plant mix and topsoil!   But we feel it's worth it in terms of saving landfill space, helping the environment and producing a product that contributes to healthier landscapes.