There's no doubt that fire pits are hot.  The annual demand we see for built-in fire pits has sky rocketed over the last couple of years.   And, as in many cities, they are legal in Midland (see residential fire rules).
A lot of folks in the area are, literally, keeping the home fires burning.  The past recession really spurred the popularity of fire pits as families began to choose stay-cations instead of spending money on traveling for their vacations or burning a lot of RV and boat gas.
Now, even though the economy is on the up turn, fire pits are here to stay.   Whether built-in or portable, they make the perfect relaxing feature for outdoor evenings spring, summer, fall (and even winter!).   With the cost of a night on the town, many people are choosing to invite friends for an enjoyable outdoor evening instead of meeting up for dinner.
While gathering around a fire is nothing new, outside living is much more popular than it was 10, or even 5, years ago.   There are so many options these days for furniture and features that make it possible and affordable to enjoy set up and outdoor living area (even in our Michigan weather).
Additionally, families are so busy these days, having an attractive outdoor oasis right in their own back yards is often a better choice than hitting in the road.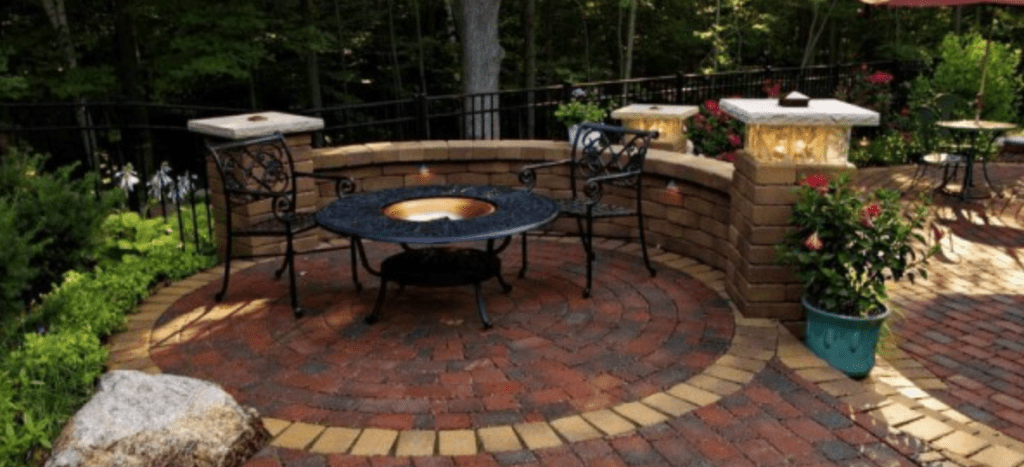 Like an inviting kitchen island indoors, an outdoor fire pit becomes the center of attention and natural gathering place.  There is something about the dancing fire light and warmth that is irresistible.
If you're interested in exploring the options for an outdoor fire pit in your yard, give us a call.  We can look at built-in's (like below) or creating special spaces for portable units (as shown above).
Bonus!!   Looking for creative new S'Mores ideas!  You won't believe these creative twists on tradition.  Surprise your friends at your next marshmallow roast! 🙂   Click Here!