There are a lot of irrigation companies to choose from in the Midland, Saginaw and Bay City area.
We feel that what sets Reder Landscaping's Irrigation Division above the rest is the simple fact that our expertise in irrigation is partnered with our passion for beautiful landscapes and our 30+ years of experience in the design, installation, and maintenance of lawns and plants.
Some companies take a "mechanical" approach towards irrigation.  Lacking in knowledge of plants and turf, their focus is limited to the mechanical aspects of watering – like the heads, valves, pipes. etc.  They tend to have a "one size fits all" attitude about irrigation that doesn't always take into account the unique requirements of a particular landscape.  This type of sprinkler system can result in over or under watering, poor performance of your lawn and plants, and a waste of water and money.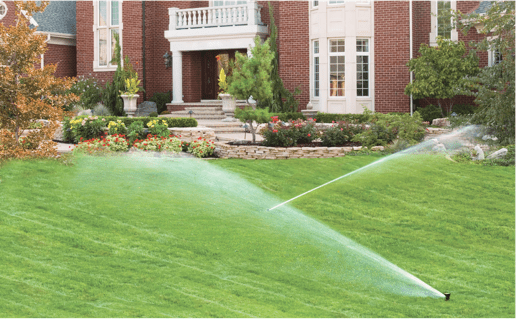 At Reder Landscaping, our approach towards irrigation is more "horticultural".  We start by assessing the overall condition of the lawn and landscape, as well as the environmental particulars of each site.  Plant and grass types, soil conditions, shade, and orientation of slopes are a few the important criteria we address first when servicing an existing sprinkler system or designing a new one.
Reder Landscaping's extensive knowledge of plants and turf, in combination with our use of award-winning Weathermatic parts and controllers, translates into irrigation systems that provide the perfect amount of water for your landscape – no more, no less.
[fusion_builder_container hundred_percent="yes" overflow="visible"][fusion_builder_row][fusion_builder_column type="1_1″ background_position="left top" background_color="" border_size="" border_color="" border_style="solid" spacing="yes" background_image="" background_repeat="no-repeat" padding="" margin_top="0px" margin_bottom="0px" class="" id="" animation_type="" animation_speed="0.3″ animation_direction="left" hide_on_mobile="no" center_content="no" min_height="none"]
Maybe you already have a sprinkler system that you want to optimize.  Or maybe you're wanting a new state-of-the-art system.  Or maybe you're looking for outstanding irrigation service as part of a comprehensive maintenance program for your landscape and want to deal with a company that can "do it all".  Contact Us today![/fusion_builder_column][/fusion_builder_row][/fusion_builder_container]